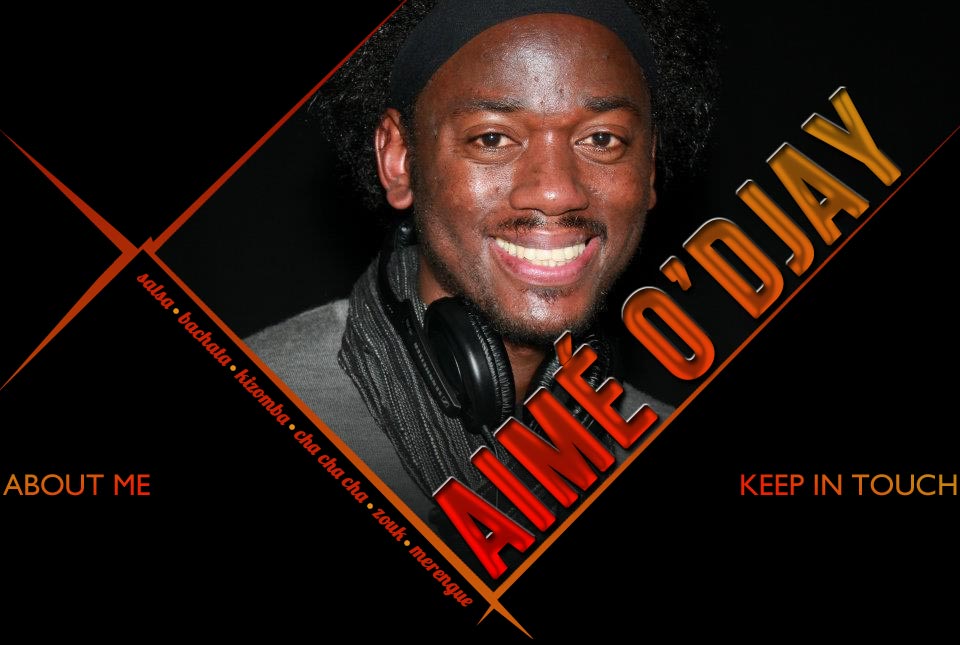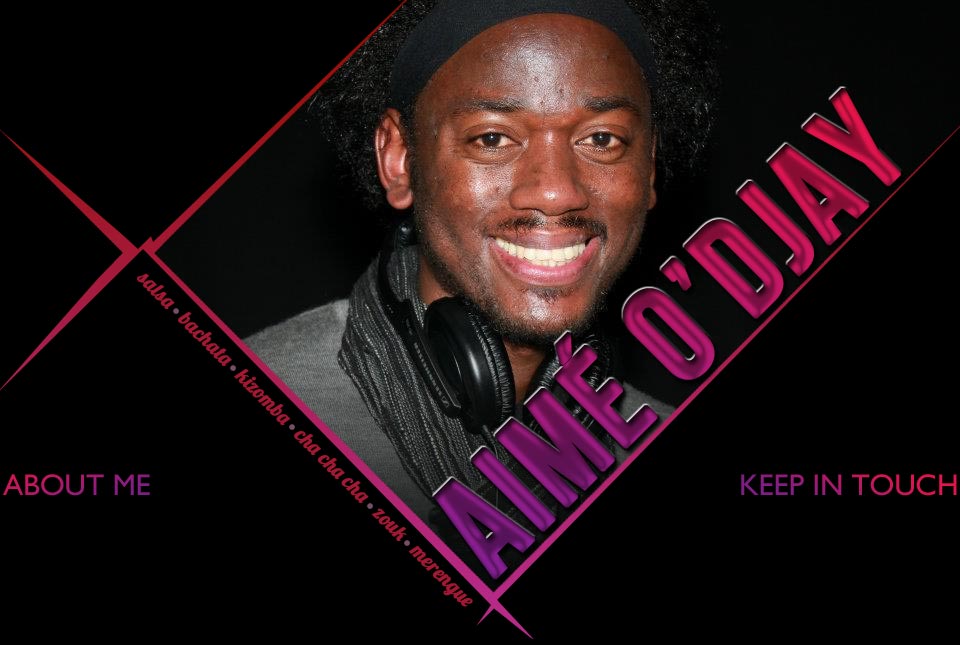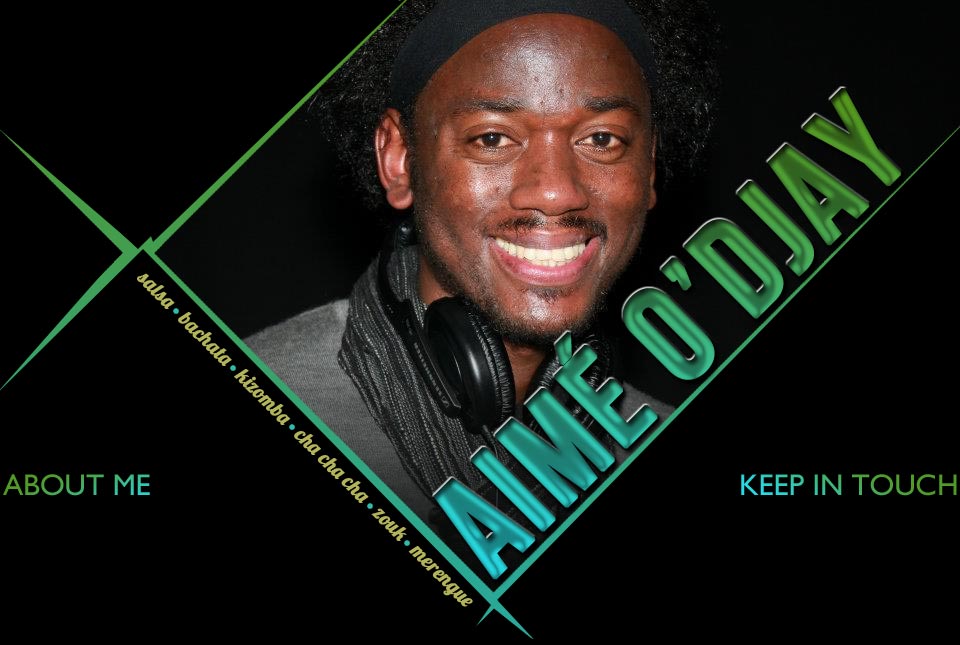 When you grow up in a family where music is always around, with an exceptional dancer as a father, with a mother who has always humming tunes and songs throughout your childhood and with an inspiring elder brother (Mike O.) who is one of the pillars of salsa in Belgium, it's no surprise that all these influences together laid the foundation for my passion for latin music, more particularly salsa music.
My DJ career started in 2004 at the Key West when I was trying to replace a DJ. Since that first taste, this fantastic rhythm and sound became an inevitable part of me to the extent that I am spending nights on end listening to new songs and trying to discover and create music gems that can please my dancing audience.
The eyes always fixed on the audience, my device is "never deceive the public" and I believe that this is the base of my reknown and reputation which allows me to be present at all big salsa parties in Belgium and to gently conquer the salsa scene abroad. Seeing people leave happily at the end of a great party is my biggest reward. As a big fan of Cheo Feliciano and with a soft spot for mambo, I'm just as well thrilled by Cuban salsa, bachata, kizomba...




It all started with a vision. The vision became a project. The project became a company, O'Jay Production, created in February 2011. It was a logical next step following many years of hard work, preparation and experience, but above all it was the result of a strong passion and ambition.
O'Jay Production organizes for you:
- Dance classes: Latin dance by Salsaganshoren
- Events: parties, gala evenings and festivals (HasseltSalsaGala, SuperSalsaPartyFestival, SuperSalsaKizombaBachata Festival, ...)
- Production: CDs, magazines, production of young artists, ...
- DJ sets: for weddings, birthdays, company parties, ...
O'Jay Production consists of a solid team managed by company owner Aimé O'Djay.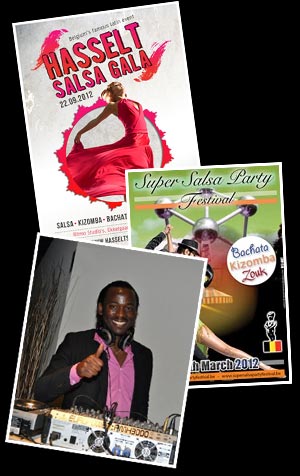 Sept. 14th, 2013

Hasselt Salsa Gala
Hasselt, Belgium

Sept. 21st, 2013

Tropica'Night Sensation
Spa, Belgium

Sept. 21-23, 2013

Santa Cruz Salsa Festival
Tenerife, Spain

Oct. 5th, 2013

Belgium Bachata Night
Liège, Belgium

Oct. 6th, 2013

Salsa Breeze
Best, Netherlands

Oct. 11-13, 2013

Amsterdam Int'l Salsa Congress
Amsterdam, Netherlands

Oct. 25-27, 2013

Balkan Salsa Congress
Borovetz, Bulgaria

Nov. 9th, 2013

Mambo Gala Trier
Trier, Germany

Nov. 22-25, 2013

Bratislava Sensual Dance Festival
Bratislava, Slovakia
Past events
Aug. 23-25, 2013

Polé Polé
Ghent, Belgium

Aug. 30-31, 2013

Salsa-festival Cologne
Cologne, Germany
Apr. 21-23, 2013

Leuven Salsa Festival
Leuven, Belgium

Feb. 17th, 2013

Colour Up Your Sunday Salsa Party
Cologne, Germany

Jan. 12th, 2013

Latin Affairs Amsterdam
Amsterdam, The Netherlands

Nov. 10th, 2012

Belgium Bachata Night
Mélen, Belgium

Oct. 26-29, 2012

6th Balkan Salsa Congress
Borovets, Bulgaria

Oct. 26-28, 2012

Dome Salsa Festival
Cologne, Germany

Oct. 20th, 2012

Black and White Salsa Party
Genk, Belgium

Sept. 23rd, 2012

HasseltSalsaGala 4th edition
Hasselt, Belgium

Sept. 8th, 2012

O'Social Dancing
Brussels, Belgium

July 21st, 2012

Salsa Contigo at Ritmo Latino
Genk, Belgium

June 15th-16th, 2012

Liège International Salsa Congress
Liège, Belgium
June 8th-10th, 2012

Salsa Festival - Golfe de Saint-Tropez
Grimaud, France

June 1st-4th, 2012

Bolingo 2012, Kizomba & Bachata
London, United Kingdom

May 10th-13th, 2012

Limburg Salsa-festival
Valkenburg, The Netherlands

May 6th, 2012

Café Local
Antwerp, Belgium

Apr. 21st, 2012

10th Jubilâum Salsa Gala NRW
Essen, Germany

March 30th - April 1st, 2012

4th Antwerp Diamond Salsa Congress
Antwerp, Belgium

March 23-25, 2012

SuperSalsaParty Festival
Brussels, Belgium

March 9-10, 2012

Salsa Ardiente 7
Liège, Belgium

March 2-4 , 2012

Afro Cuban Festival
Poznan, Poland

Feb. 18th, 2012

Strictly Mambo
Prague, Czech Republic





Salsa Ganshoren

Dance lessons in Ganshoren

Hasselt Salsa Gala

Belgium's famous latin event

SuperSalsaFestival

International Salsa Festival in Brussels
Featured link